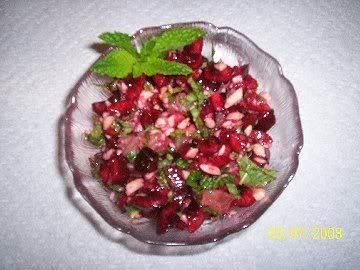 Folks, I have a confession to make.
This was supposed to be a post about a really fun chocolate chip variation on Irish soda bread. Unfortunately, when I tested my recipe for the bread, it didn't come out quite the way I had figured. It was fragrant and had a beautiful color. There it sat on my cooling rack, looking like something ready for Food Network. Seriously, this was a lovely loaf of bread. Lovingly, I brushed the crust with margarine while it was still warm. Later, I realized how fortunate it was I hadn't forgotten that step.
You see, when it came time to slice that bread, it showed itself to be, er, very FIRM. Had it not been for the margarine I brushed over it, I'd probably have ruined my bread knife on it. I briefly considered borrowing a band saw because I figured if I could just get it sliced it would probably make very good emergency roofing material.
Undaunted, I reminded myself that I am a Food Brave, creative cook and turned to my fridge and pantry for something else to try. I found some really lovely Bing cherries and a nice lime in the fridge and some almonds on the pantry shelf. I was in business! Cherry-lime chutney was born! Here's how it goes.
For about one cup of chutney, you'll need:

· Fresh cherries - pitted and diced large. About 2/3 of a cup.
· The zest of ¼ - ½ of a lime
· 1 lime, peeled and chopped into pieces
· 1 T chopped almonds, blanched and unsalted
· 1 T sugar
· 10 – 12 mint leaves, minced but not too fine

I cut the cherries into quarters and then cut the quarters into thirds. These were really big cherries so you may want to do yours differently. You're looking for pieces that are about ¼".

I zested (lightly rubbed it over a fine grater to remove just the colored bit of the rind) about one quarter to one half of my lime and added that to the cherries. Then, I peeled the lime. I chose to do this with a knife and then, I cut out the sections of the lime from between the whitish skin segments. Personally, that whitish skin is flavor and texture I don't mind sacrificing. However, if you don't mind it, you can just peel the lime in the usual way, separate the sections and cut them up. The pieces should be about the same size as your cherries pieces. Add them to the bowl with your cherries and your zest. If there is any lime juice hanging around on your cutting board, get that into the bowl.

Add the almonds and sugar and give it all a good stir. Then, roughly mince the mint leaves (make sure you rinse them clean and pat them dry in a paper towel first) and toss them in, as well.

There! All done. The flavor will be much better if this is covered and allowed to sit in the refrigerator for at least an hour before eating. This chutney is really good with chicken or on a croissant or bisquit.

As always, there are substitutions you can make. If limes are a problem for you or just don't float your boat, try lemon or grapefruit. Orange is a bit sweeter so if you choose orange, cut back your sugar to ½ - ¾ T. The almonds are optional. You can leave them out or substitute some other nut or seed. Unsalted sunflower seeds would be nice. Do opt for unsalted nuts or seeds, whatever you choose. This recipe can be done with other fruits, too. Choose one that is sweet and tends to be juicy.

As you can see, this recipe isn't exactly friendly to people needing to avoid sugars. The cherries are pretty sugary in themselves and I've added sugar to help draw out the juices. You can try leaving out the sugar which will help. However, do be aware of and follow your doctor's instructions regarding fruit sugars if you are diabetic.
As for the soda bread, never fear. I think I know which of my alterations to the recipe caused the problem. I'll have another whack at it and when I get it the way I want it, I'll make sure to pass the recipe on to you.
So, until then, let's go eat that!